Kittus Music
THE SHORT VERSION
I'm a British songwriter/ex-recording artist living in the U.S.. In the past 20 years I've had songs recorded in the States by the likes of Cher, Heart, Peter Cetera with Chaka Khan, and Fleetwood Mac, and in  Europe, most notably in recent years by Eurovision winner Conchita Wurst and Belgian star Milow, whose albums were top 5 in most of Europe. (See VIDEOS page.) I've also had many songs placed in TV shows and movies.
THE LONG VERSION
My first musical memory is of singing "Baa baa black sheep" into an ancient reel-to-reel tape recorder at the age of 2. I never looked back.
Song writing began at 17, with a slew of lovelorn songs written through college years. Things got more serious when I teamed up with old school friend Julian Marshall to form Marshall Hain. Our song "Dancing In The City" hit the top 5 of most European countries, as well as Australia and S. Africa, and still gets enough radio plays to make a decent dent in the grocery bills.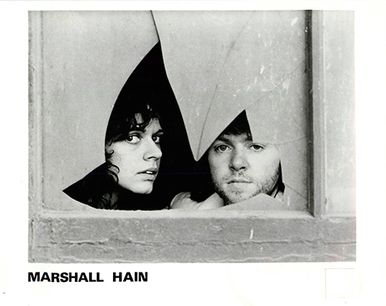 After Julian and I parted ways (we're still best of friends), I wrote and recorded two solo albums, one of which included the Dutch hit "Danny", then moved to New York City where I continued writing songs as well as music for advertising, while gigging at New York clubs like CBGBs, The Bitter End, and the China Club. The last bass player to join my band was a certain Jon Grindstaff. We got married. I stayed in the States. In 2002, we moved out of New York City to Pennsylvania.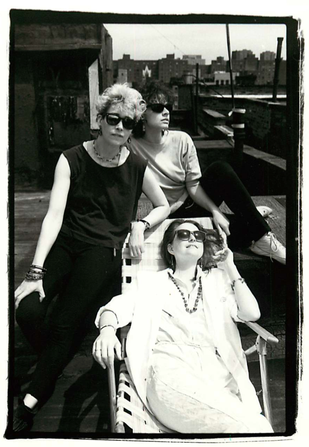 New York Years
During the New York years I teamed up with two friends to form The Blister Sisters, an a capella trio. For a year or so we sang regularly on the streets to generally favorable response and dollars in our hat. We did have eggs thrown at us once, though.
My third solo album "Cry Freedom" was released in Belgium in the mid-90s on Tempo/EMI. I was also a guest singer on guitarist Joe Taylor's "Oracle" and "Desolation Angels" albums, and Soft Cell producer Mike Thorne's "Sprawl" and "The Contessa's Party"albums.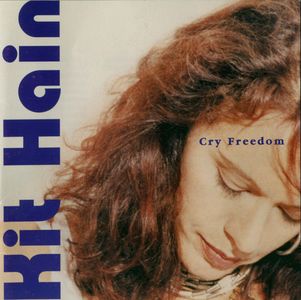 WRITING FOR OTHERS
My career for the past 20-30 years has focused on writing songs for other artists, either with or for them, and/or with their producers. For the most recent cuts, scroll down to "THE LATEST" and "THE PAST FEW YEARS". (See also links to videos.) They include Unbreakable, recorded by Conchita Wurst, which came close to being the Austrian entry for the Eurovision Song Contest in 2012. In 2014, Conchita won the contest.
BACK TO THE BEGINNING
The first major artist to record my songs was Roger Daltrey, lead singer of THE WHO. Kiki Dee then recorded Perfect Timing, and Brit star Barbara Dickson recorded Rising Waters (written with Ian Lynn). Since then, I've had the good fortune to write for and with some fabulous artists. In the U.S., they include songs released by Aimee Mann (Til Tuesday), Heart, Cher, Fleetwood Mac, The Osmonds, Judy Collins, Peter Cetera & Chaka Khan, Selena, and The Temptations. In Europe they include cuts with Danish star Caroline Henderson (8 songs written w/Caroline on her #1 album "Metamorphing"), Trintje Oosterhuis (Netherlands), German Idol winners No Angels (Germany), Monrose (Germany), and Marie-Eve Janvier (France). More recent cuts are listed below.
I've also been lucky enough to have songs licensed regularly for TV shows, and the occasional movie. (See separate list below.)
SONG CITY
 In 2007 and 2008 I was invited to Belgium for a week-long songwriting event called Song City, where I wrote songs with local recording artists including Milow, Stan van Samang and Eva de Roovere.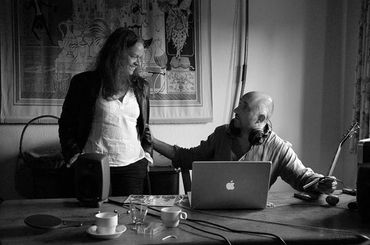 At work with producer Ronald van Huffel, Song City 2007
The brain child of publisher Luc Standaert (Cricket Hill Music), Song City was a great success. Both events culminated in a live show to an audience of several thousand, and led to cuts on each artist's albums. 
The 2007 show was my first onstage appearance in 10 years. . . Terrifying! Once I started playing, though, nerves vanished, and I loved every minute. For Milow's set, I accompanied him singing Out of my Hands, which we'd written that week. The song's first-ever performance, it was later a single from his #1 album "Milow", and a hit in Germany for him and Marit Larsen. (See VIDEOS page for some of our songs, as well as Stan's hit, Poison.)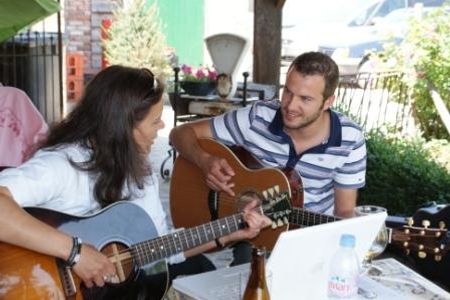 Writing with Stan van Samang for his 2nd album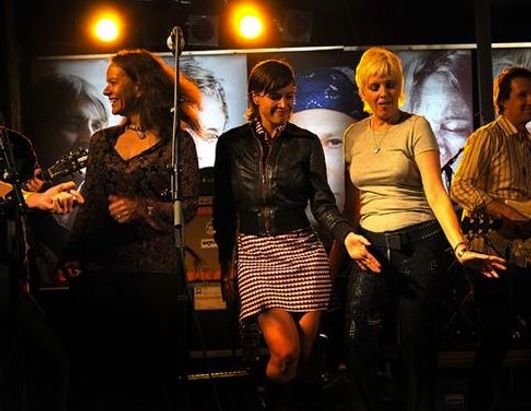 Out of step with Eva de Roovere and Ellen Foley, Song City 2008
THE PAST DECADE
On this list, all songs are written with the artist unless otherwise stated. Several songs on this list are also on the VIDEO page.
2015: Will Tura (Top Act/Universal) Viva la Vida (single)
2015: Henri PFR (Sony Netherlands) One People (EDM digital release)
2013: Kato (Sony Belgium) Justify (single), Sugar Rush (single), Ribbon (2nd co-writer on all 3: Steven Vergauwen). Cardboard Box, Kiss and Ride. From album, "Warrior".
2012: The Sinderellas (Warner Germany) King of Diamonds, written with Stefan Haffelinger, on debut album "Secrets and Sins".
2012: Milow (Homerun/Universal) She Might She Might and Building Bridges, on "North and South Live"
2012: Milow (Homerun) Out of my Hands, on "Born in the Eighties" EP.
2012: Caroline Costa (France Has Talent runner up, EMI France) Ce Lien, written with François Welgryn, programmed and co-produced by Kit. From debut album, "J'irai".
2012: The Osmonds Break Your Fall, written with Nikki Gregoroff and David Bellocchio. From album "Can't Get There Without You".
2011: Conchita Wurst (Sony Austria) Unbreakable, written w/Roland Spremberg. Finalist for Austria's Song for Europe entry. (See also VIDEO page.)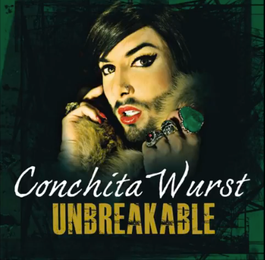 2011: Milow (Homerun/Universal) She Might She Might (single - see also VIDEO page), Building Bridges, Rambo, and Little in the Middle from hit album "North and South"   
2011: Stan van Samang At the Edge of the World, on album "King in my Head"
2011: Kato (Belgian Idol runner up, Sony, Belgium) Suits You Well (single, see also VIDEO page), written w/Kacy Brown, Sebastian Kirschner and Greg Becker, Break Out (single), Sweet Sweet Boy, written w/Kacy Brown and Sebastian Kirschner, and Stronger Now. From top 5 debut album "Kato".
2011: Eva de Roovere (Universal Belgium) De Kaizer van den Nacht and Slaapt de zon (singles); and Chocolat, written w/François Welgryn, on album "Mijn Huis"
2011: Dean (JP Music, Belgium) Break Your Fall (single - see also VIDEO page), written with Nikki Gregoroff and David Bellocchio.
2010: Monrose (Warner Germany) I Surrender, written w/Udo Mechels and Yannic Fonderie, on album "Ladylike".
2010: Natalia (Sony BMG Belgium) Heartbreaker, written w/Stefaan Fernandez, on "Best Of" album.
2009: Milow (Homerun/Universal) Out Of My Hands and The Ride on the live album, "Maybe Next Year".
2009: Milow (Universal) Out Of My Hands (single) and The Ride: 2008's "Coming of Age" album repackaged as "Milow"; top 5 throughout most of Europe. Out of my Hands hit in Germany as duet w/Marit Larsen (See also VIDEO page.)
2009: Stan van Samang (EMI Belgium) Love Is, (written by Kit) Maybe Today, and Simple Life, on album "Take It from Me".
2008: Milow (Homerun Records, Belgium) Out Of My Hands and The Ride: both singles from the #1 album "Coming of Age". Album on Belgian charts for over a year. (See also VIDEO page.)
2008: Natalia (Sony BMG Belgium) Heartbreaker, single, written w/ Stefaan Fernandez, on "Wise Girl" album.
2007: Stan van Samang (EMI Belgium) Poison, (single - see also VIDEO page. Written w/ Sacha Skarbek), and Just a Girl. Both on album "Welcome Home".
FILM & TV 
2010 You Again (Movie) (writer/producer: Full of U)
2008 The Hills (MTV series) (singer/co-writer: Ready for Anything)
2006 Big Love (TV series) (writer/producer: One and Only)
2006 The Unit (TV series)
2006 Hello Sister, Goodbye Life (TV movie) (writer/producer: Beautiful Life)
2002 Cadet Kelly (TV movie) (co-writer/co-producer: Don't Get Me Started)
2002 Eye See You (aka D-TOX) (writer/performer/singer/producer: Love Is – end title track)
Other TV shows: Felicity, Sex in the City, All My Children.
OTHER STUFF
I'm now writing novels for teens and pre-teens under my married name, Kit Grindstaff. My debut, THE FLAME IN THE MIST is a dark, magical fantasy, published by Delacorte Press/Random House Children's Books.
Visit my author website here.
The trailer for the book (with music for the first half written and recorded by me, with the vocal talents of my then-6 year old niece and great niece), is on my website, as well as on my YouTube channel, here.
You'll also find a video review by 12-year-old Edie ba Dee Dee.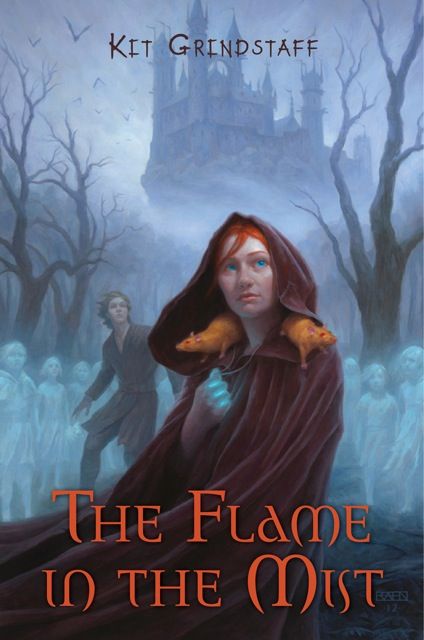 Cover art by Chris Rahn © 2013
My other passions include sunshine, shamanism, yoga, walking, reading, sushi, chocolate, and puppies.